How to create a new customer from a transaction
Updated by Lynn Varnell
How to create a new customer from an existing transaction
From the left hand menu, navigate to "Transactions".
By default the most recent transactions will be listed. You can also search by Date, Card Number, and Name.
Once you've located the transaction, navigate to the right hand side and select the customer icon.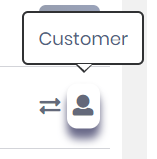 On the "Profile" Tab, complete the required and optional fields as needed.
The credit card from this transaction was automatically saved and selected as the Default card.
On the "Credit Cards" tab you can also add additional cards or edit/delete existing cards.
When all desired information is complete select "Save" at the bottom of the "Profile" tab.
You can also create a new Customer without an existing transaction in the "Customer" section. See "
Create a New Customer
" for more information.